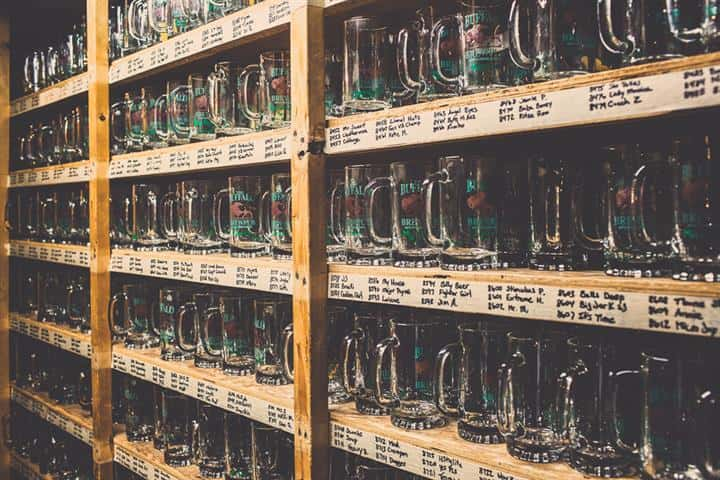 Mug Club
** Due to COVID-19 we will NOT be retiring any existing mugs in 2020. If you have a mug please don't worry - it isn't going anywhere! Please sign-up for our e-mails if you wish to keep up to date with news, specials & events. Please stay well & we hope to see you soon!
Join Our Famous Mug Club!
This is your chance to join the ranks of 10,200 plus members of our famous Mug Club - for FREE!
Here is how it works… we give you a card to hold onto until you receive 20 credits, which represent each time you purchased a pint of beer from a server or bartender. Once you've tallied 20 pint credits, no more than 5 per day, you submit this card to us. Let us know what name you want on your mug, no more than 10 characters (and keep it clean), your name, address, city, state and mailing address. We will send you a post card when your mug arrives! Bring that post card in for your first mug of beer on the house!
Why do you need your own Mug?
You will receive invitations to special Mug functions including our summer and holiday parties.

Mugs of Beer are $1 off every day until 7pm and all day Sunday and Monday

It's a "club" that you can list on your resume

How cool would it be to show off your OWN Mug to your friends!?
You're only obligations - take as long as you want to enjoy 20 pints of draft beer to get your mug, visit once every 6 months to keep it active, and REMEMBER YOUR MUG NUMBER!

Sign up next time you're in!